Fax:+86 371-67993277
Tel: +86 371-67991755
Sales direct: +86 15838331071
E-mail:sales@battemachinery.com
http://www.extrusiongearpump.com
24h services
ZB-K gear pump for reactor
Chemical gear pump for reaction kettle
also called
polymer extrusion reactor discharge pumps
. Chemical reactor gear pumps are widely used for production of monomers, oligomers, and other applications. Sealing forms include oil seal, gasket seal, threaded seals, labyrinth seals, packing and dynamic seals, mechanical seals.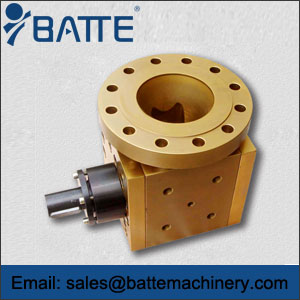 Chemical gear pump for reaction kettle applications:
Polymer extrusion reactor discharge pumps are used for reaction kettle. (ZB-W) Chemical pumps for low viscosity materials transportation and quantitative applications, including transport tasks in transportation and quantitative chemical and pharmaceutical industry, as well as polymer production of monomers, oligomers, prepolymers. In beauty, food, petrochemical and polymer industry and other fields to show the reliability of delivery and quantitative accuracy. ZB-F series melt pump is mainly used for transporting medium or high viscosity medium out of the vacuum reaction kettle. On basis of large suction inlet flange design, the high viscosity medium is able to absorb inside under vacuum conditions. This series of melt pump is primarily applicable for ABS, PS, PC, PET, SAN, PP, PE Biopolymers, etc.
Batte, located in China, is one of
gear pump manufacturers
.
ZB-K Series Melt Pump for Reaction Kettle Technical Parameter:
Material for Melt Pump Body: stainless steel, carbon steel, hatelloy, monel metal
Material for Gear: M2 Steel (Optional), tool steel, nitrided steel, special materials or coating
Gear Tooth Type: straight gear, helical gear, herringbone gear
Material for Sliding Bearing: Tool steel, titanium tantalum alloy, silver nickel, special materials or abrasion-resistant coating
Shaft Sealing: Mechanical sealing, packing and spiral packing, combined
Heating System: Electrical heating
Model/Flow Range: 0.5CC - 12000CC, 0.5cm3/rev - 12000cm3/rev
Polymer extrusion reactor discharge pumps operating parameter:
Viscosity: ≤40000 Pa.s
Working Temperature: ≤400℃ (750℉)
Cleaning Temperature: ≤450℃ (850℉)
Inlet Pressure: vacuum – 1.5MPa
Outlet Pressure: vacuum – 1.5MPa
Differential Pressure: ≤40MPa
Pump Model

Pump Volume (CC)

Driven Power (kw)

Heating Power (kw)

Working Temperature

Working Pressure

Outlet Pressure: ≤ 40Mpa(6,000psi)

Outlet Differential Pressure: ≤ 275Mpa
Relative Articles:
◆ZB-F gear pump for reaction kettle
◆Chemical metering gear pumps
◆ZB-D pipeline gear pump
◆ZB-R rubber gear pump
◆Gear pumps for extruder
◆RS double shaft rubber pump
◆ZB-U gear metering spinning pump
©2015 Batte Mechanical Zhengzhou Co,.Ltd. All rights reserved. 
sales@battemachinery.com
Batte is one of
gear pump manufacturers
supplying
extrusion melt pumps
. Melt pump also called
extrusion gear pump
for gear sturcture.