Fax:+86 371-67993277
Tel: +86 371-67991755
Sales direct: +86 15838331071
E-mail:sales@battemachinery.com
http://www.extrusiongearpump.com
24h services
batte rubber melt pump
product description:
The rubber melt pump is used for the elastomer and the easily degradable plastic extrusion system. This type of pump adopts the special internal structure and has an efficient self-cleaning function. It is suitable for the extrusion of the rubber elastomer. It is usually installed on the outlet of the extruder and the die Boost pressure regulator between the first measurement.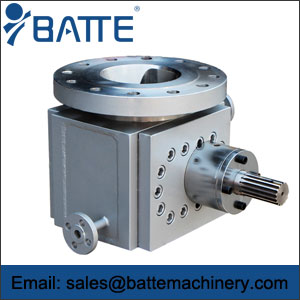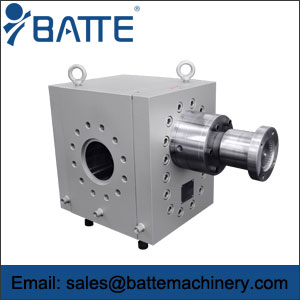 The main application of rubber melt pump
PVC, BR, CR, EPDM, NBR, SBR, natural rubber, other easily degradable materials
Rubber melt pump main features:
1) Can be used in high pressure (40MPa), high viscosity (40,000Pa • s) conditions;
2) high finish, almost mirror, adapted to heat-sensitive materials;
3) Precision structure, high temperature control accuracy.
4) optimize the flow and lubrication systems, with efficient self-cleaning function, no residual material, no dead ends.
Rubber melt pump Technical parameters:
Transmission medium viscosity: 1 ~ 40,000Pa • s (1,000 ~ 40,000,000cP)
Entrance pressure: 0 ~ 30MPa
Export pressure: 0 ~ 40MPa
The maximum pressure: 25MPa
Operating temperature: ≤ 350 ℃
The main structure of rubber melt pump:
Pump body: nitrided steel tool steel to do mirror surface treatment
Gears: Toothed-tooth or helical gear / special alloy mirror treatment
Bushings: Tool Steel / Special Alloy
Heating method: circulating water heating
Cooling method: shaft cooling system
Shaft: Dual-axis drive with water cooling
Shaft seal: spiral discharge
Specifications / flow range: 31.5CC-800CC
Rubber melt pump Installation:
ZB series melt pumps can be installed in a variety of ways, the pump input shaft can be horizontal or vertical layout (up and down can be); Drive system generally include: motor, reducer, universal coupling, pump connection Head, reducer connector first class;
©2015 Batte Mechanical Zhengzhou Co,.Ltd. All rights reserved. 
sales@battemachinery.com
Batte is one of
gear pump manufacturers
supplying
extrusion melt pumps
. Melt pump also called
extrusion gear pump
for gear sturcture.