Fax:+86 371-67993277
Tel: +86 371-67991755
Sales direct: +86 15838331071
E-mail:sales@battemachinery.com
http://www.extrusiongearpump.com
24h services
batte extrusion Gear pump
Gear pump is usually used in conjunction with single or twin screw extruders.In this paper,the gear pump and its applications in extrusion system are introduced.​
We gear pump manufacture slugs and preforms for compression molding. This equipment can also make precision extruded rubber cord stock. Rubber cord stock and or rubber preforms can be screened, precisely cut at the die face or downstream. We can also screen large rubber strip stock and put in to smaller, accurate strip sizes for injection molding, transfermolding and compression molding.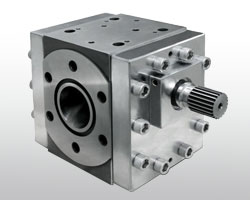 ​Gear pump technology makes for accurate rubber sizing. Rubber products can benefit from accurate preforms. Compression molding, Transfer molding and Transfer Injection molding rubber techniques rely on accurate and consistent rubber stock. Gear pump extruders make solid profiles with no porosity, no air traps. Weight and dimensional stability are maintained to extremely tight and consistent tolerances. Gear pumps have amazingly high output and can keep product very cool or if needed can be run suprisingly hot.​
Type

CC/Rev

Capacity (L/H)

Heating power (kw)

Driven system (km)

Pressure

Temperature

Operating temperature:≤350℃

Clearing temperature:≤450℃
next:
©2015 Batte Mechanical Zhengzhou Co,.Ltd. All rights reserved. 
sales@battemachinery.com
Batte is one of
gear pump manufacturers
supplying
extrusion melt pumps
. Melt pump also called
extrusion gear pump
for gear sturcture.