Fax:+86 371-67993277
Tel: +86 371-67991755
Sales direct: +86 15838331071
E-mail:sales@battemachinery.com
http://www.extrusiongearpump.com
24h services
Rubber gear pump design
Rubber gear pump design
can be introduced from gear design and design for rubber. Gear design includes helical gear, spur gear, and herringbone gear. Pump design includes viscoseal, driven shaft, etc.
Rubber gear pump
is also a kind of extrusion melt pumps.
Rubber gear pump gear design:
Helical Gear Design Properties:
Standard for rubber pumps
Reduced pulsation (compared to spur gears)
Self-wiping design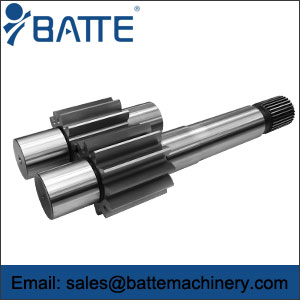 Spur Gear Design Properties:
Standard for high pressure gear pumps
Best volumetric efficiency
No axial thrust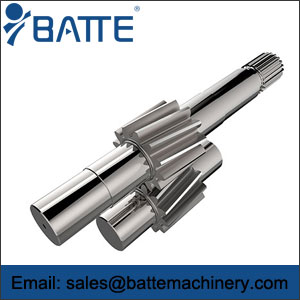 Herringbone Gear Design Properties:
Lowest pulsation
No axial thrust
Optimized temperature profile across rubber flow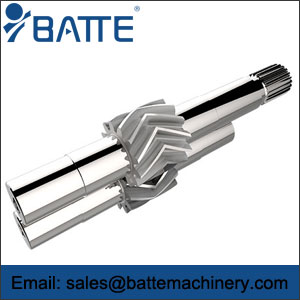 Spur gears, helical gears, and herringbone gears show difference in pulsation.
Rubber gear pump design for rubber:
Pressure monitoring for inlet and discharge sides
Temperature measurement of housing
Shaft Cooling System: cooled shafts to avoid excessive heat
Drive Shaft
Driven Shaft
Viscoseal: depending on the sensitivity of the rubber the pump can be designed so that product from the bearings can be recirculated back to the pump inlet or can be bled out to atmosphere
Temperature measurement of endplates
Rubber Extrusion Application:
Die Head
Temperature measurement for pump outlet
Screen changer or breaker plate
Static mixer
Extruder gear pumps
for pulsation free rubber transfer
Special inlet port design for constant material flow to gears
Product flow from feeding extruder
©2015 Batte Mechanical Zhengzhou Co,.Ltd. All rights reserved. 
sales@battemachinery.com
Batte is one of
gear pump manufacturers
supplying
extrusion melt pumps
. Melt pump also called
extrusion gear pump
for gear sturcture.