Fax:+86 371-67993277
Tel: +86 371-67991755
Sales direct: +86 15838331071
E-mail:sales@battemachinery.com
http://www.extrusiongearpump.com
24h services
Mini melt pumps
Mini melt pumps
are widely used for dosing tasks, transfer task, and discharge tasks. This type
extrusion gear pump
will be introduced through the technical features, operating parameters, and applications.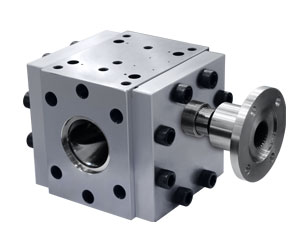 Mini melt pumps technical features:
Materials:
Housing: stainless steels, tantalum, titanium, hastelloy
Gears: 1.4112 (440B) but also all other processable ceramics and metals, e.g. 1.4571 (316Ti), Ferralium, Ferro Titanite, Hastelloy, etc., optional: surface coating
Friction Bearings: Carbon, NiAg (nickel-silver), silicon carbide, zirconium oxide, tool steel, Al-bronze, optional: special materials, surface coating
Shaft Seals: Single mechanical seal (ED), Single mechanical seal with buffer fluid (AD), Double mechanical seal with buffer fluid (DD), Magnetic coupling, stuffing box
Heating System: Steam, water, heat transfer oil, electrical
Mini melt pumps Operating Parameters:
Viscosity: 0.5 to 1.000.000 mPas
Temperature: Up to 300 °C (580 °F), higher temperatures upon request
Suction Pressure: Vacuum to max. 15 bar (215 psig), magnetic drive to max. 25 bar (363 psig)
Differential Pressure: Up to 120 bar (1.740 psig)
The values listed are maximum values and must not coincide under certain circumstances.
Mini melt pumps Application:
Organic and Inorganic Chemicals: Alcohols, additives, bases, esters, glycerine, resins, hardeners, isocyanates, monomers, oils, phenol, acids, biodiesel, hotmelt, glues,waxes, etc
Polymers: PET, PC, PA, PS, PMMA etc.
Foodstuffs: Vegetable oils, butter, margarine, flavourings, chocolate, fudge, liquorice, chewing gum, vitamins, syrup, gelatine. etc.
Pharmaceutical and Cosmetic Products: Amino acids, lotions, shampoo, vitamins, etc.
In additional to our standard pumps, we also offer a wide range of special pumps, e.g. made of ceramic, tantalum, titanium or immersion pumps. Many of these
extruder gear pumps
are custom built to suit the application in question and its specific operating parameters.
©2015 Batte Mechanical Zhengzhou Co,.Ltd. All rights reserved. 
sales@battemachinery.com
Batte is one of
gear pump manufacturers
supplying
extrusion melt pumps
. Melt pump also called
extrusion gear pump
for gear sturcture.