Fax:+86 371-67993277
Tel: +86 371-67991755
Sales direct: +86 15838331071
E-mail:sales@battemachinery.com
http://www.extrusiongearpump.com
24h services
Products for polymer compounding applications
Products for polymer compounding applications
include gear melt pumps, screen changers, pelletizing systems, optional integrated control of all processing line components, and other related products.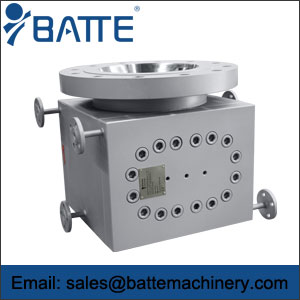 Products for polymer compounding applications:
Extrusion gear pumps
Continuous and discontinuous screen changers
WSG dry-cut strand pelletizing systems
SPHERO®underwater pelletizing systems
Optional integrated control of all processing line components
Many melt pumps, filtration, pelletizing systems are currently used for compounding applications around the world, delivering maximum performance and profitability for our customers.
Systems and components for processing and pelletizing a comprehensive range of polymer compounds, including:
Masterbatches, e.g. color masterbatches (TiO2, carbon black, color concentrates) or functional masterbatches (such as flame retardants)
Compounds with fillers (such as calcium carbonate or talc)
Wood plastic compounds (WPC)
Compounds with additives, e.g. plasticizers, flame retardants, UV stabilizers, foaming agents
Reinforced compounds e.g. compounding with fiberglass or natural fibers
Compounds for special applications
Polymer blends
No matter how your production process is designed, or whether you require a solution for maximum application flexibility or maximum throughput, and regardless of what processing method you are using, we can help.
Polymer processing components, products for polymer compounding applications, and pelletizing technologies will be the ideal solution for your specific application.
©2015 Batte Mechanical Zhengzhou Co,.Ltd. All rights reserved. 
sales@battemachinery.com
Batte is one of
gear pump manufacturers
supplying
extrusion melt pumps
. Melt pump also called
extrusion gear pump
for gear sturcture.