Fax:+86 371-67993277
Tel: +86 371-67991755
Sales direct: +86 15838331071
E-mail:sales@battemachinery.com
http://www.extrusiongearpump.com
24h services
Melt pumps for extrusion
Melt pumps for extrusion
have different types, technical features, operating parameters, wide applications, and different type of seals.
Melt pump for extrusion
is mainly used in conjunction with extruders or kneaders.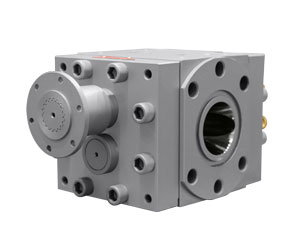 Melt pumps for extrusion types from version:
Round design melt pump
Edge design melt pump
Quick color change version for masterbatc applications
Melt pump materials:
Housing materials: heat resistant carbon steel, rust-free stainless steel, with optional coating
Gears materials: tool steel, nitrated steel, special steel, with optional surface coating, helical gearing, herringbone gearing (for extremely low-pulsation conveyance)
Friction Bearings materials: Tool steel, NiAg (nickel-silver), Al-bronze, special materials, with optional surface coating
Extruder melt pump shaft seal ways:
Visco seal, stuffing box
Extrusion melt pump heating systems:
Electrically, by means of heating cartridges, optional cover heating
Melt pumps for extrusion applications:
Polymer melt: PS, PET, PVC, PC, PMMA, HDPE, LDPE, LLDPE, PP, PEEK
In addition to the technical features above, you can also get the specifications, advantages, and other details of melt pumps for extrusion.
©2015 Batte Mechanical Zhengzhou Co,.Ltd. All rights reserved. 
sales@battemachinery.com
Batte is one of
gear pump manufacturers
supplying
extrusion melt pumps
. Melt pump also called
extrusion gear pump
for gear sturcture.