Fax:+86 371-67993277
Tel: +86 371-67991755
Sales direct: +86 15838331071
E-mail:sales@battemachinery.com
http://www.extrusiongearpump.com
24h services
Melt pump system engineering
Batte
melt pump system engineering
includes seal barrier fluid systems and metering systems. Batte pump system enable precise volumetric metering of low to high viscosity media with
extrusion gear pumps
.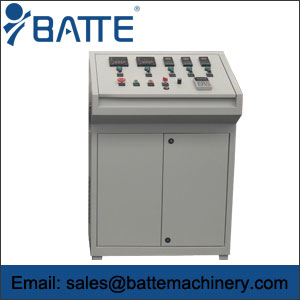 Melt pump system engineering:
Melt Pump Seal Barrier Fluid Systems:
Why buffering systems?
All rotating pumps have a drive shaft, which must be sealed in one way or other. The seal can be in the form of a magnetic coupling, a stuffing box, a viscoseal with reverse conveyance thread, simple or double action rotation mechanical seal, multiple lip seals or even a combination of these methods.
With certain batch processes (e.g. Polyester production), the shaft seal must be able to cope with extremely difficult conditions: on the one hand, temperature and speed of the pump and the viscosity of the medium alter during a batch and on the other hand, the shaft of the pump must be sealed against a high vacuum at the inlet side. Under such conditions, the only effective solution is a dual action reverse blocked sealing systems; either a double stuffing box or a double rotating mechanical seal in a "back to back" or "face to face" configuration.
Both systems must be provided with a buffering medium. This must be compatible to the product being conveyed (in this example Polyester) and resistant to temperature variations due to the fact that Polyester is usually run at temperatures of between 280°C and 300°C (553-572 °F).
Melt Pump Metering Systems:
The Batte metering system enable precise volumetric metering of low to high viscosity media with gear melt pumps, even at high temperatures and pressures. Two series connected
extrusion melt pumps
, one measuring and one pressure boosting pump are precisely controlled by a PLC control system, such that a precision of better than 0.01% is achieved, depending upon the medium.
©2015 Batte Mechanical Zhengzhou Co,.Ltd. All rights reserved. 
sales@battemachinery.com
Batte is one of
gear pump manufacturers
supplying
extrusion melt pumps
. Melt pump also called
extrusion gear pump
for gear sturcture.