Fax:+86 371-67993277
Tel: +86 371-67991755
Sales direct: +86 15838331071
E-mail:sales@battemachinery.com
http://www.extrusiongearpump.com
24h services
Melt Pump Repair Service
We repair and overhaul all kinds of melt gear pumps: industrial and chemical, extrusion as well as for other polymer processing and compounding applications – even melt pumps from other
gear pump manufacturers
.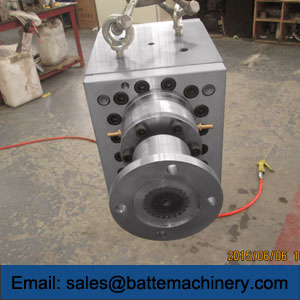 Melt Pump Repair Service:
We offer state-of-the-art pump cleaning using pyrolysis furnace technology.
Providing a comprehensive range of repair, overhaul and cleaning services to bring your gear pumps back into peak operating condition
With our extensive on-site inventory of spare parts, you can be assured that your melt pump will be expertly repaired and returned to you in shortest possible time.
Melt Pump Repair Service Benefits from Us:
Fast and reliable support by our global team of experts
Long service life provides optimum return on your initial investment
Helps to keep you ahead of your competitors
Melt Pump Repair can reduce your cost of extrusion lines. Burn-out option with pyrolyse furnace for gear pump cleaning available in Europe, USA and China.
©2015 Batte Mechanical Zhengzhou Co,.Ltd. All rights reserved. 
sales@battemachinery.com
Batte is one of
gear pump manufacturers
supplying
extrusion melt pumps
. Melt pump also called
extrusion gear pump
for gear sturcture.