Fax:+86 371-67993277
Tel: +86 371-67991755
Sales direct: +86 15838331071
E-mail:sales@battemachinery.com
http://www.extrusiongearpump.com
24h services
Gear pumps spare parts and repair
Gear pumps spare parts
, rate increase, overhauling, repair are our main services. Our spare parts are suitable for different
extrusion gear pumps
, and our two Pocket Bearing design significantly increases shaft life.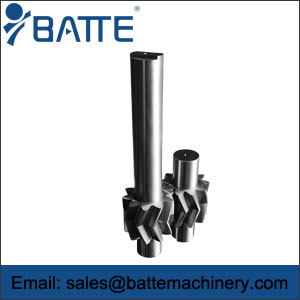 Gear pumps spare parts, rate increase, overhauling, and repair:
Besides spare parts for our own gear pumps which are stocked locally in Europe, USA and China we also offer service for other gear pump brands.
Our parts fit into many pumps of other brands from sizes 22/6 to 280/280. Call us for a quote or set up an on-site inspection with our local representatives. If you need your gear pump to be overhauled or repaired send it to us.
We will disassemble the pump, evaluate the extent of work needed and quote an attractive price for the parts and time required.
Benefit from our quality, our experience, our knowledge about axial, radial and tip clearances, our trained personnel and our suggestions to improve the performance of your gear pump.
We could check if with our Herringbone (double helical) geared shafts the flow rate of your pump can be increased to debottleneck your application - in certain cases the herringbone shafts can increase flow rate in excess of 15%!
Our two Pocket Bearing design significantly increases shaft life.
These pockets are mirror finished to improve product lubrication of the bearings and the shaft journal surfaces.
All parts or work are covered by our 12-months guarantee.
next:
©2015 Batte Mechanical Zhengzhou Co,.Ltd. All rights reserved. 
sales@battemachinery.com
Batte is one of
gear pump manufacturers
supplying
extrusion melt pumps
. Melt pump also called
extrusion gear pump
for gear sturcture.