Fax:+86 371-67993277
Tel: +86 371-67991755
Sales direct: +86 15838331071
E-mail:sales@battemachinery.com
http://www.extrusiongearpump.com
24h services
Gear melt pump systems
Gear melt pump systems
include melt pumps (chemical and industrial pumps, elastomer extrusion pumps, thermoplast Extrusion Pumps, and polymer industry), extrusion control systems, auxillaries, etc.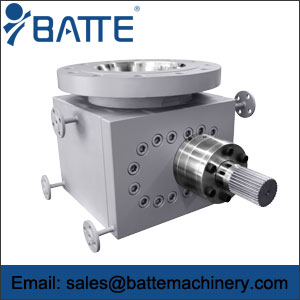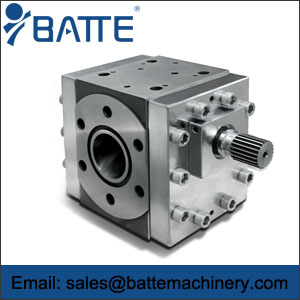 Gear melt pump systems:
Chemical and industrial pumps, elastomer extrusion pumps, thermoplast Extrusion Pumps,
polymer extrusion pump
Polymer production pumps:
Gear pumps from Batte are displacement pumps for operation at high pressure. The high level of efficiency and long service life increase the overall efficiency of your production plant. They are used in various processes as transfer, reactor discharge and booster pumps for low and high-viscosity media.
The latest findings from the ongoing collaboration with clients are constantly fed into the further development of the company's products. This helps to markedly increase performance, quality and operating safety in the polymer, chemical and petrochemical industry.
With the launch of our 6th generation gear pumps, first unveiled at the K'2013 show, we redesigned every single component featured in Batte's pump portfolio, from gears and shafts through to bearings and seals, fine-tuning how all components interact, culminating in a system with a new industry-leading, state of the art technology.
Up to 50% higher flowrate, for the same housing size
Up to more than 50% reduced backflow due to higher volumetric efficiency
Up to 10 times smaller pressure fluctuation
Alternative housing options for extraction pumps
Extrusion Control Systems:
As well as components for pumping and filtering plastic melts and elastomer mixtures, Batte also offer complete solutions for automation with instruments and control components that have been developed in-house.
The experience of Batte allows it to link all components logically and create the ideal solution. This also significantly increases the operational reliability and safety. Integrated statistical functions and process data memories facilitate auditable quality management. The influence of additional levels of freedom, such as adjustment of the pump upstream pressure via the target value (pump upstream pressure control), also increases the system's flexibility.
Flat Dies and Feed Blocks for Thermoplastic Extrusion (USA only):
Batte offers a full line of film, sheet, foam sheet, and double wall dies and associated feeblocks. Our TruFlowTM products are engineered and constructed to world class standards, typical of what you have come to expect from Batte. Dies are available for producing single and multiple layer output, including foam and corrugated layers.
Capacities include:
Up to 6,600 lb/hr
Up to 315 inches wide
Up to 1.18 inches thick
Up to 9 layers
A variety of manual and automatic lip adjustments are available, including adjustments without process interruption, as well as internal and external deckling arrangements.
Whether provided individually, or as part of a complete package with melt pump, screen changer, and/or static mixer, you get the quality and lasting value that has made Batte one of the most trusted name in extrusion today.
Gear melt pump systems Accessories:
Batte offers you an extensive range of pressure and temperature sensors along with display equipment for extrusion and compounding applications. The measuring technology components, together with the melt pumps, screen changers and control elements, supplement the expac® complete systems from Batte.
©2015 Batte Mechanical Zhengzhou Co,.Ltd. All rights reserved. 
sales@battemachinery.com
Batte is one of
gear pump manufacturers
supplying
extrusion melt pumps
. Melt pump also called
extrusion gear pump
for gear sturcture.