Fax:+86 371-67993277
Tel: +86 371-67991755
Sales direct: +86 15838331071
E-mail:sales@battemachinery.com
http://www.extrusiongearpump.com
24h services
Elastomeric gear pump
Elastomeric gear pump
for quick maintenance is suitable for frequent colour changes or small batch sizes. Elastomeric gear pump types, benefits, application operational range, and advantages are as follows.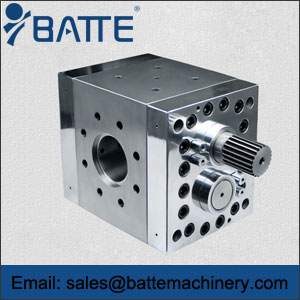 Two types of elastomeric gear pump:
extrex RV-Q for 40% more throughput with retention of the basic dimensions per size
extrex RB-Q for high-pressure applications involving up to 500 bar counterpressure
Elastomeric gear pump Benefits:
Reduces time and effort spent on cleaning
Minimises handling costs
Shaft / bearing package rapidly exchangeable
Various tooth geometries are available and can be exchanged at any time
Elastomeric gear pump application operational range:
Outlet pressure [bar]: Up to 450
Differential pressure [bar]: Up to max. 350
Pump size: 36 to 140
Specific volume [cm3/rev]: 25.6 to 1,432
Throughput range [kg/h]: 15 to 1,500
Viscosity [Pas]: Up to 30,000
Temperature [°C]: Up to 130
Elastomeric gear pump advantages:
Frequent colour changes or small batch sizes, then this
extrusion gear pump
is the ideal solution. The extrex RQ series features first-class manual cleaning compatibility even while installed. The entire pump can be dismantled without restriction. This means that the systems operator has to spend only a short time on cleaning and benefits from improved access for inspections.
Shafts / bearing packages prepared especially for this are replaced in seconds once the pump has been mechanically dismantled. The interior of the pump is freely accessible once the housing halves have been separated and the rotor package has been removed. There is also no need to open and close adapter flange screws above and below the pump, since the product channel to both the extruder tip and the extruder head is freely accessible.
©2015 Batte Mechanical Zhengzhou Co,.Ltd. All rights reserved. 
sales@battemachinery.com
Batte is one of
gear pump manufacturers
supplying
extrusion melt pumps
. Melt pump also called
extrusion gear pump
for gear sturcture.