Fax:+86 371-67993277
Tel: +86 371-67991755
Sales direct: +86 15838331071
E-mail:sales@battemachinery.com
http://www.extrusiongearpump.com
24h services
Applications for virgin polymers
Within the area of
applications for virgin polymers
production, we offer a single source for systems and complete production lines tailored to standard requirements and even exact customer requirements.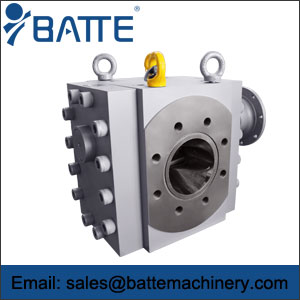 Melt pump applications for virgin polymers technologies:
Extrusion gear pump
for monomers
Gear pumps for oligomers and prepolymers
Reactor extraction pumps
Booster pumps
Simplex and duplex large area filtration units
Screen changers
Underwater strand pelletizing systems
System for underwater spherical pelletizing
Dry-cut strand pelletizing system
Integrated control of pumps, screen changers and pelletizing systems with state-of-the-art distributed control system
Melt pumps, High-performance filtration units, Pelletizing solutions / systems are now actively processing virgin polymers around the world, delivering maximum performance and profitability for customers.
Systems and components are suitable for processing and pelletizing a comprehensive range of virgin polymers, including:
Technical thermoplastics, e.g. PET, PBT, PA, PC
Styrene polymers, e.g. GP-PS HI-PS, ABS, SAN, SB
Acrylic polymers, e.g. PMMA
Polyolefins, e.g. PP, PE
Biopolymers, e.g. PLA
Elastomers, e.g. PUR, TPE, TPU, EPDM
High-temperature thermoplastics, e.g. PEEK, PAI, PAEK, PSU, PI, LCP
Expandable polymers, e.g. EPS, EPP
Specialized polymers
As a complete provider of polymer production components and pelletizing technologies, no matter how your production process is designed, what applications for virgin polymers you need, or what processing method you are using, we can help.
©2015 Batte Mechanical Zhengzhou Co,.Ltd. All rights reserved. 
sales@battemachinery.com
Batte is one of
gear pump manufacturers
supplying
extrusion melt pumps
. Melt pump also called
extrusion gear pump
for gear sturcture.