Fax:+86 371-67993277
Tel: +86 371-67991755
Sales direct: +86 15838331071
E-mail:sales@battemachinery.com
http://www.extrusiongearpump.com
24h services
extrusion gear melt pump case
In the project, the customer current for Austria E company provides 120 single-screw extrusion production lines, equipped with a double column type filter, the yield of 600 kg/hr, using 120 mesh screen pack for every 4 hours or so will need to stop the replacement filter, production line capacity is difficult to give full play to, and difficult to achieve higher precision filtration. The Eco-Green team hopes to install a filter with a larger filter area on the current production line to reduce the frequency of switching and to achieve greater production capacity and higher quality products.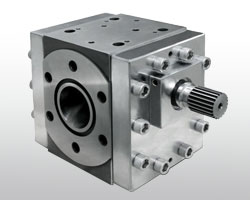 Through detailed communication and discussion with the customer, according to customer's actual use requirement,batte molding machine to provide the solution is to use double column cartridge filters ZB-ACB-50 equipped with ZB-B melt pump integration scheme, relative to other types of net or filter products, it has better sealing performance, more big filter area, can achieve better effect, give full play to the capacity, reduce the production cost of the production line.
©2015 Batte Mechanical Zhengzhou Co,.Ltd. All rights reserved. 
sales@battemachinery.com
Batte is one of
gear pump manufacturers
supplying
extrusion melt pumps
. Melt pump also called
extrusion gear pump
for gear sturcture.