Fax:+86 371-67993277
Tel: +86 371-67991755
Sales direct: +86 15838331071
E-mail:sales@battemachinery.com
http://www.extrusiongearpump.com
24h services
extrusion t die
Process type :extrusion t die.
Number of mold parting surface; Multiple parting surface
Cavity number: multi-cavity mold.
Mold installation way :fixed mold.
Scope of application: household appliances, medical care, electronics, daily necessities, gifts, handicrafts,
Other mold materials: P20.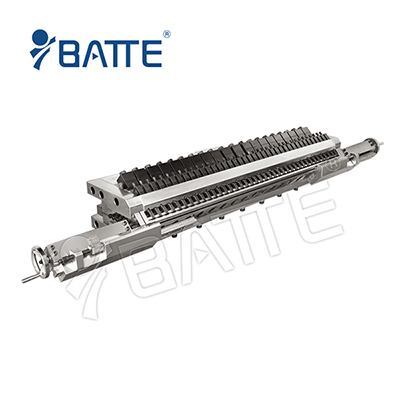 extrusion t die Features:
Rapid removal of the mold mouth crystallization technology.
High viscosity plastic for special flow smooth treatment.
Multi - layer design can enhance physical requirement and reduce cost.
The sealing side design can reduce the waste generation, without the burr interference, improve the efficiency.
A variety of stuffing system, according to different needs of customers.
Perfect runner design is not stuck.
All kinds of plastic foaming experience is rich.
©2015 Batte Mechanical Zhengzhou Co,.Ltd. All rights reserved. 
sales@battemachinery.com
Batte is one of
gear pump manufacturers
supplying
extrusion melt pumps
. Melt pump also called
extrusion gear pump
for gear sturcture.