Fax:+86 371-67993277
Tel: +86 371-67991755
Sales direct: +86 15838331071
E-mail:sales@battemachinery.com
http://www.extrusiongearpump.com
24h services
Rubber extrusion system melt pump indispensable
Gear pump technology in the rubber industry is making rapid progress. Rubber extrusion melt pump has many advantages, such as improving the quality of the product and reduce the scorched rubber. Bart domestic professional manufacturer of meltblown rubber pumps for different materials to provide special melt pumps include: sheet melt pump, pipe melt pump, polypropylene melt pump.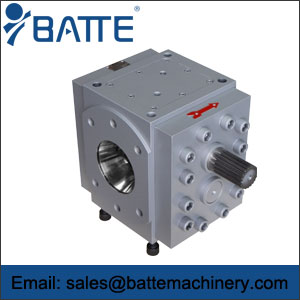 In rubber extrusion melt pump systems, one of the main purposes of extrusion is the production of geometrically shaped products of consistent size, smooth surface and precise die at high throughput and temperature. In order to achieve this goal, single-screw extruder processing steps very bear. They can be divided into the following sections: feeding, uniform heating and plasticising to the required processing temperature and the extrusion pressure necessary to form the die through the nosepiece.
Due to the tangential feeding of strip and sheet extrudates, single-screw extruders are prone to jitter and pressure fluctuations, and the issue of extrusion systems has not been completely solved. The jitter generation is due in part to the damping and pressurized flow performance within the single screw extruder, a property that is essential for sizing and subsequent pressure formation. Flow performance strongly depends on the feeding speed. Changes in feed rate lead to pressure fluctuations in the nose position, will undoubtedly reduce the quality of the extruded product. In addition, the formation of extrusion pressure requires input energy, which causes the compound temperature to rise. Therefore, in a fixed condition to improve the head pressure, will make the temperature increase, increase the possibility of scorch, and production will most likely be reduced.
Butter production melt pump equipment, is widely used in plastic, resin, rubber, chemical fiber products extrusion. Such as: granulation, film, pipe, sheet, sheet, rayon, optical fiber, medical plastic catheter and other fields.
ZB-R gear pump for rubber operating parameter:
Mooney ML1+4(100): to 120
Working Temperature: ≤130℃
Cleaning Temperature:≤350℃
Inlet Pressure: ≤70MPa
Differential Pressure: ≤50MPa
©2015 Batte Mechanical Zhengzhou Co,.Ltd. All rights reserved. 
sales@battemachinery.com
Batte is one of
gear pump manufacturers
supplying
extrusion melt pumps
. Melt pump also called
extrusion gear pump
for gear sturcture.